Individual order
個人さまのイラスト制作のご依頼
描いているのは、形のないもの。
I draw things that are formless.
だれかを大好きに想う"気持ち"
自分だけのたいせつな"思い出"
幸せでいてほしいという"願い"
それらをより深く感じてもらえるよう、
絵にはいろいろな意味を込めています。
The feeling of loving someone.
Your own precious memories.
A wish for someone to be happy.
I put various meanings into my paintings so that people can feel them more deeply.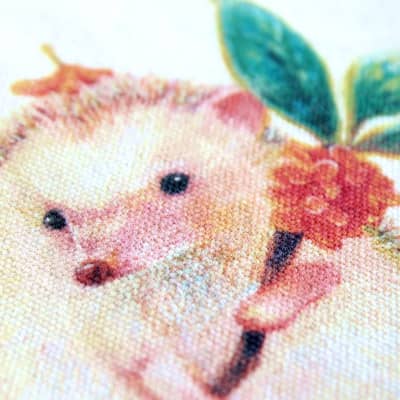 人間よりも成長のはやい動物たち。
一緒にすごした時間や思い出、愛らしい姿を
"世界で一枚だけの絵"
という形あるものを通して想いつづけられる、というのもまた幸せの一つだと考えます。そういった愛情深い時間やこころの温かさを、あなたに。
Animals grow up much faster than we do.
We think it is one of the blessings to be able to remember the time we spent with them, our memories of them, and their adorable appearance through a tangible object,
a "one-of-a-kind painting"
I would like to share with you the warmth of my heart and the time I spent with these animals.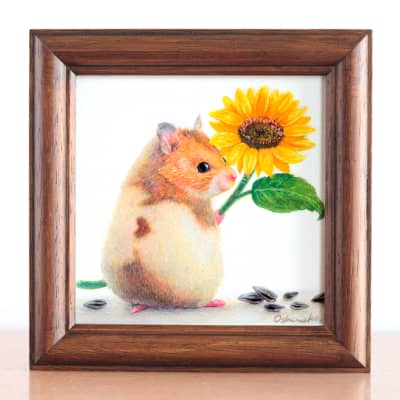 About Orders
ご注文について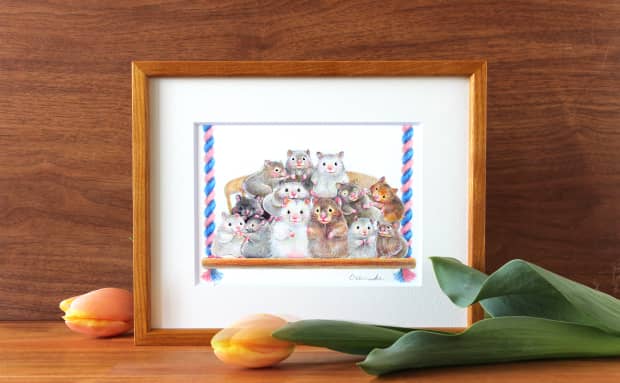 お好きな動物や大切なペットさまの絵を完全オーダーメイド・手描きにて制作し、額にお入れした状態でお届けいたします。
We will create a completely custom-made, hand-painted picture of your favorite animal or important pet, and deliver it to you framed.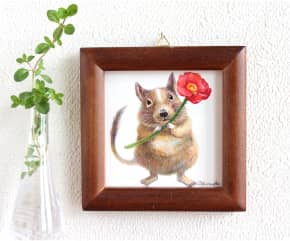 こちらは「受注後制作」「ご予約作品」です。
(詳しくはページ下部の「ご注文の流れ」をご覧ください。)
コミュニケーションをとりつつ、絵画と同等の描き込みや時間、神経を注ぎ、双方の納得いく仕上がりになるまで尽力させていただきますので、そのぶん価格や制作期間も頂戴しております。
1年以上お待ちいただくこともあり恐れ入りますが、ご理解とご納得をいただける方、それでもお迎えしたいと思ってくださる方にぜひお届けできましたら、そして喜んでいただけましたら、幸いです。
This is a "made-to-order" and "pre-order" piece.
(For details, please refer to "Order Flow" at the bottom of this page.
While communicating with you, we will put in the same amount of time and effort as we would for a painting, until both of us are satisfied with the finished product, which is why we charge a higher price and production time.
We are sorry that you may have to wait for more than a year, but we would be very happy if we could deliver our products to those who understand and agree with us, and who still want to receive them.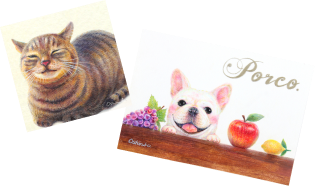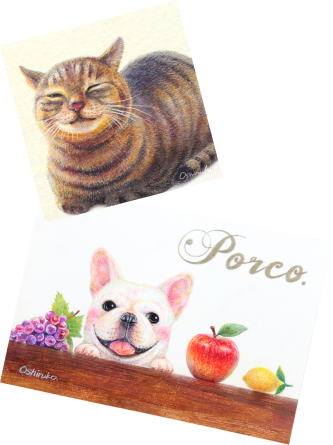 Size & Price
サイズと価格
すべて額代・税込み料金です。※送料は別途かかります。
サイズはご希望を伺いつつ、動物さんのサイズ感によりご相談しながら決めていきますので、迷われている方はお気軽にご相談ください。また、価格は変更することがございますが、オーダーを頂いた時点の掲載料金にて制作いたします。
All prices include tax and frame fee. Shipping costs will be charged separately.
If you are unsure of the size, we will ask you what you would like and discuss with you the size of your animal to determine the size. Prices are subject to change, but will be determined based on the price listed at the time of order.
Options
オプション
小物や背景、文字ありなどのオプションも可能です。(ご相談内容により別途料金を頂戴します。)
上記以外のオプションも可能ですので、ご希望の際はお気軽にご相談ください。
Options such as small items, backgrounds, and text are also available. (A separate fee will be charged depending on the contents of the consultation.
Options other than the above are also available, so please feel free to contact us if you would like to request one.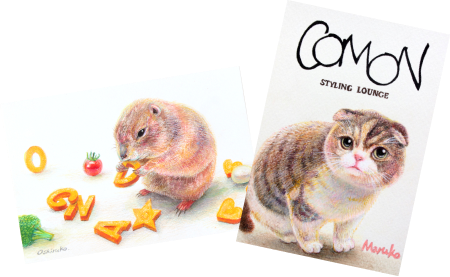 Order Flow
ご注文の流れ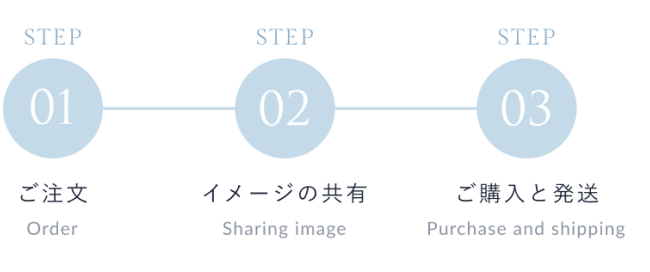 フォーム・SNSのDMよりご注文
Order from our website form or DM on SNS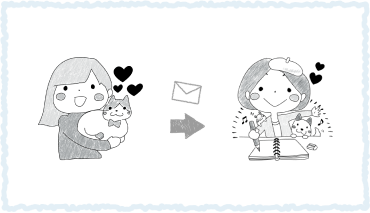 当ページの内容をご確認のうえ、ご納得いただけましたらフォーム、
またはSNSのDMより下記をご連絡ください。
If you are satisfied with the contents of this page, please contact us via the form or DM on SNS.
ご依頼にあたっての必要事項
Information required to place an order
1

動物さまのお名前と種類

Name and type of animal

2

ご希望のイラストのサイズ

Preferred size of the illustration

3

お写真(完成イメージに近いものや、写りの鮮明なもの)

A photo (close to the finished image, or or a clear one)
以下もございましたらお知らせください。
If you have any of the following information, please let us know.
動物さまとのエピソード

Episodes with Animals

作品のご用途

Purpose of the work

ラフ画の作成とイメージの共有
Create rough sketches and share finished images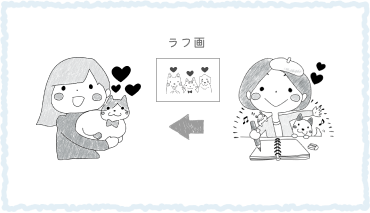 構図案やラフ画を制作し、イメージを共有します。
ご確認後、着色での本制作にはいります。
We will make a rough sketch and share the image with you.
After your confirmation, we will start the coloring process.

ご購入とイラストの発送
Purchase and ship illustrations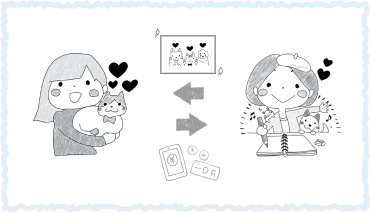 本制作ができあがりましたら仕上がりをご確認いただきます。微調整をご希望の場合は、お気兼ねなくご相談ください。
お振り込み口座をご連絡いたしますので、ご入金の確認後に作品を発送させていただきます。
We will ask you to check the finished product when it is completed. If you would like to make any minor adjustments, please do not hesitate to contact us.
We will contact you with the bank account information so that we can confirm your payment before we ship your work.
最後までご覧いただきありがとうございます。ご注文や、ご不明点などございましたらお気軽にお問い合わせフォームよりご連絡くださいませ。
かわいい動物たちや、すてきなご依頼主さまにお逢いできるのを楽しみにしております!
Thank you for reading to the end. If you have any questions or comments, please feel free to contact us using the contact form.
I'm looking forward to meeting the cute animals and the wonderful clients!